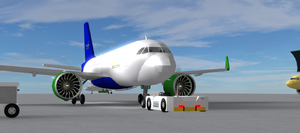 The Airbus A319neo is the narrow-body flagship, badged as Fifty-Two Executive, with a VIP/Club arrangement. 
Features/"Set-Aparts"
Edit
The Airbus A320 family is easily distinguishable from the Boeing 737 in many ways:
The A320 family is taller.
Every member of the Airbus A3xx family, excluding the Airbus A300 and A310, have sidesticks as an alternative to yokes.
As well as sidesticks, the Airbus A320 cockpit is designed for pilot comfort, having footrests and a table–the pilots are able to eat, too!–
In case of any continuous, major problems, it is to be replaced by the Boeing 737 MAX 7.  The 737 MAX 7 is not intended to enter service until early 2018.  Until then, Next-Generation Boeing 737 aircraft will be used as fillers in case something goes wrong.  The A319neo and McDonnell Douglas MD-87 are the nuclei of the fleet, currently, with Dornier 328 turboprop-powered aircraft as the support.