The
Boeing 777-200LR
, like the Boeing 787-8 and Airbus A350-900 is a widebody single-deck flagship. It has several features of the
Airbus A380-800
, but it is able to land at smaller airports.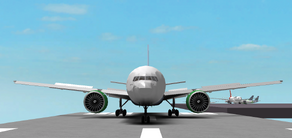 Benefits
Edit
The two GE90-115B engines provide lots of thrust, not requiring full power to get to the V1 or ROTATION speed. Despite its heavy thrust, it has a top speed 32 km/h slower than the Boeing 757-200, depicted in the background image.
Every aircraft will have three classes: Business (named FTBiz), premium economy and standard economy.  Mood lighting is on every aircraft.  Starting in May 2016, the aircraft will have personal inflight entertainment.  N6560F will be the first aircraft fitted with the system.
Features/"Set-Aparts"
Edit
Unlike Air Ruskin's Boeing 777-300ER aircraft, which have a 1-1-1 economy configuration, Fifty-Two's aircraft will have a 1-2-1 economy configuration.  The aircraft lacks a lounge.
Incidents/Accidents
Edit
The 777-200LR, so far, has only had one accident. Two crows were ingested by its left engine. However, the plane landed safely thanks to the use of the rudder. No fatalities, all escaped with minor injuries not requiring hospitality.
In a way, the Boeing 777-200LR is very similar to the McDonnell Douglas DC-10, for the said plane was compared to a larger plane (in the DC-10's case, the Boeing 747). The 777 is compared to the A380, because it is smaller and can land at smaller airports.
It has the longest range of all Boeing aircraft in Fifty-Two's fleet.
Its ICAO code, along with the Boeing 777F, is B77L.
Originally, the Boeing 777 was envisioned to be a trijet to compete with the McDonnell Douglas DC-10 and Lockheed L-1011 TriStar.  In 1988, Boeing had an answer: a new design into what we know as the Boeing 777 today.
Mote to be added. Be patient!